MPEG-2 Digital TV Encoder / Multiplexer
The LEX‐2000 is a powerful yet low cost MPEG‐2 encoder / multiplexer, that can be configured with all the functions necessary to get any station on the air with a DTV signal.
Hitachi-Comark provides high performance and award winning television trans-mitters that are backed by more than 40 years of leadership in both inductive outputtube (IOT) and solid-state broadcast technologies.
The LEX-2000 MPEG-2 digital TV encoder / multiplexer from Hitachi-Comark was developed primarily for the LPTV market. It uses a compact 2RU dedicated hardware platform and provides all the necessary functions to allow a broadcaster to get on the air with an ATSC compliant, multi-program signal. The LEX-2000 can encode up to 8 programs in in a combination of either SD or HD formats. In addition to program encoding, the product also multiplexes the program content with both static and dynamic PSIP data.
Flexibility by Design
Powerful Encoding
Transport Stream Multiplexer
PSIP Management
Closed Captioning
DVI Confidence Monitoring
Emergency Alert System
AFD Management
Optional ASI Input for IRD Feeds
Streaming IP Output
Legal ID Feature Available
A new license feature has been added to comply with FCC Station I.D. requirements. The new license feature allows the encoder to overlay a small text box onto the incoming video stream that contains the broadcast station call letters (as well as their call numbers as an option) and city of origin. A new webpage with the license feature is available that gives the station engineer the ability to adjust the offset of when the text box is displayed as well as the duration (or amount of time the text box is present on the screen). The engineer also has several choices for the location of where the text box appears in the stream.
This NEW license (LEX-UPG-EAS) allows the LEX-2000 to have the EAS text crawl across the active video program(s). It's compatible with both SD and HD resolutions and you can select which broadcast services/programs have the crawl via the LEX-2000 user GUI. This NEW feature is available as an option on new LEX encoders or as an upgrade for existing LEX platforms.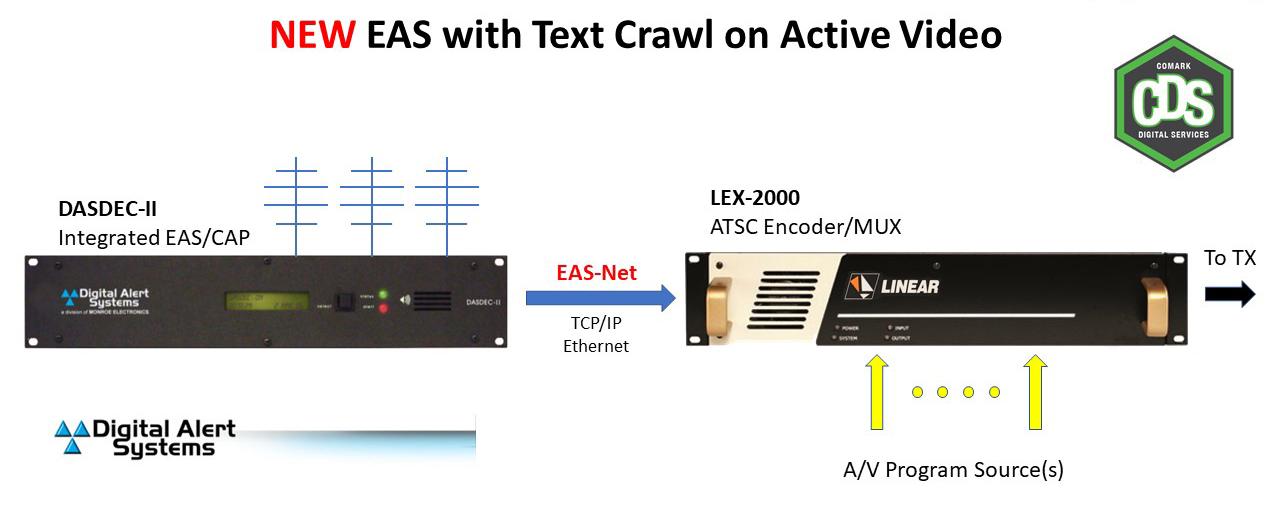 Quick Exchange Program for LEX/CMX Encoders
Hitachi-Comark is proud to add the LEX/CMX encoder to our Quick Exchange Service to quickly, and cost effectively, put your station back on air.
The Quick Exchange Program for LEX/CMX encoders is simple. If a problem arises with a LEX/CMX encoder, a call is made to Hitachi-Comark and a replacement encoder is shipped, usually in 1-2 days. The broadcaster permanently keeps the replacement encoder and sends the failed unit back to Hitachi-Comark. This saves the broadcaster time and money by eliminating installation of temporary encoders while repairs are being made and reinstalling repaired encoders. The Quick Exchange Program for LEX/CMX encoders allows the LEX/CMX encoders to be switched once.